This is an old revision of the document!
---
Pengaturan Skema
Pengaturan skema adalah proses paling awal yang harus dilakukan sebelum peneliti dapat mengajukan proposal penelitian. Pada proses ini dilakukan pengaturan atas semua aspek terkait skema penelitian seperti jadwal, jenis kegiatan, syarat pengajuan, luaran wajib, dan sebagainya.

Menu Jadwal Skema
Pengaturan skema dilakukan pada menu jadwal skema. Pada menu ini, pertama-tama operator menambahkan jadwal skema baru, kemudian mengatur detil lain dari skema tersebut, mulai dari jadwal berbagai kegiatan pada skema, syarat pengajuan proposal pada skema, dan pengaturan lainnya hingga menentukan penandatangan kontrak pada skema tersebut.

Garis besar langkah-langkah penambahan skema adalah: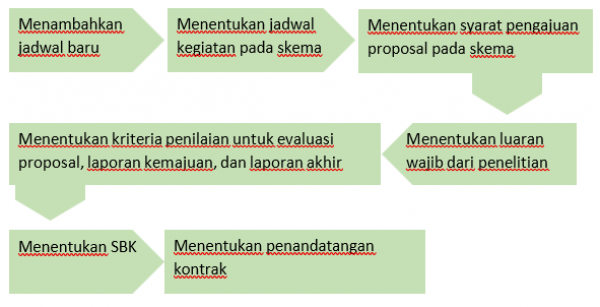 Detail langkah-langkah
Tambah Jadwal Baru