This is an old revision of the document!
---
Setting Reviewer
Pada menu Set Reviewer, operator dapat melakukan plotting untuk menentukan reviewer yang tersedia untuk dapat dipilih pada tiap tahun dan kemudian memilih reviewer yang akan melakukan review untuk tiap judul proposal, tiap judul laporan kemajuan, dan tiap judul laporan akhir.
Set Reviewer Per Tahun
Pada menu Set Reviewer Per Tahun, operator dapat menambahkan nama-nama reviewer yang dapat dipilih dalam tahun tersebut.

Di tabel ditampilkan daftar nama reviewer pada tahun tersebut. Untuk memilih tahun lainnya, pilih pada kolom tahun kemudian klik filter. Untuk menambahkan reviewer pada daftar, operator bisa menggunakan Tambah Internal untuk menambahkan reviewer dari dalam UB, atau Tambah Eksternal untuk menambahkan reviewer dari luar UB.
Tambah Reviewer Internal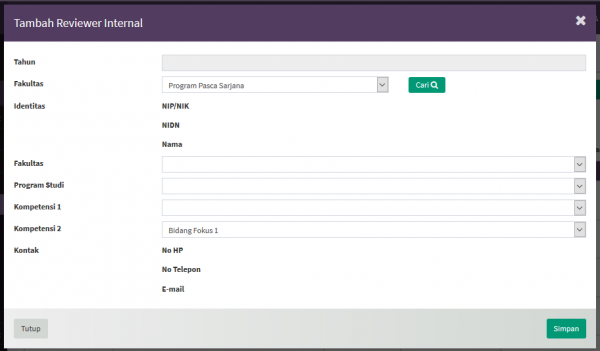 Klik pada tombol hijau Tambah Internal untuk menampilkan jendela Tambah Reviewer Internal. Pertama-tama pilih tahun, fakultas, kemudian klik Cari, untuk menampilkan daftar reviewer. Untuk mencari nama reviewer, ketik nama reviewer pada kolom Search. Klik pada Pilih untuk menampilkan data-data reviewer. Pilih Fakultas, Prodi, serta kompetensi 1 dan 2 untuk reviewer tersebut. Jika sudah sesuai, klik Simpan untuk menambahkan reviewer ke daftar reviewer.
Tambah Reviewer Eksternal
Plotting Reviewer
Reviewer Proposal
Reviewer Kemajuan
Reviewer Laporan Akhir
Sebaran Beban Reviewer