This is an old revision of the document!
---
Verifikasi Proposal
Proposal yang telah diupload oleh peneliti harus diverifikasi oleh operator sebelum dapat direview oleh reviewer. Proses verifikasi dilakukan di menu Verifikasi Proposal.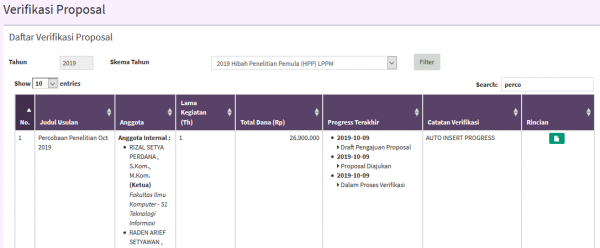 Pertama-tama pilih tahun skema, kemudian jenis skema, dan klik pada filter, maka akan ditampilkan seluruh proposal pada skema tersebut. Operator dapat mencari judul penelitian tertentu dengan memasukkan judul atau nama anggota penelitian pada kolom Search.
Setelah Judul penelitian ditemukan, klik pada tombol hijau di kolom ujung kanan untuk memunculkan jendela verifikasi.